LED Light Therapy 
What is LED Light Therapy? 
LED Light therapy is based on the principle that living cells are able to absorb and are influenced by light. The treatment has long been recognised for its regenerating and anti-inflammatory properties.
While we often associate light exposure with skin ageing and damage, light also has many positive influences on the body. It helps us produce vitamin D and provides energy and serotonin and can also accelerate our skin's natural repair processes.
The differences between the positive and negative effects of light are the amount and the parts of the light spectrum we are exposed to. On-going exposure to UV is very damaging but controlled levels of Red, Blue and Near Infrared light are clinically proven to be beneficial.
The treatment involves exposing the skin to low levels of this beneficial light energy from the visible and infrared part of the light spectrum which energise cellular functions to stimulate various cellular processes with therapeutic effects. Skin cells that are energised function better and regenerate faster which in turn leads to younger, healthy and radiant skin.
The effects of LED Phototherapy are a natural response similar to that of plant photo-synthesis through a process known as photobiomodulation.
Benefits of the Different Wavelengths 
LED Red Light:
Stimulates collagen synthesis and growth factor production
Increases hydration levels and moisture retention
Evens skin tone and texture
Calms redness & inflammation
Stimulates circulation & lymphatic system
Accelerates skin healing
Near Infra-Red Light:
Most deeply absorbed wavelength by skin tissue
Increases cell permeability and absorption
Reduces pain and inflammation
Accelerates wound healing
LED Blue light:
Anti-bacterial benefits
Reduces oil production
Helps with acne breakouts
UV free alternative for eczema and psoriasis
Anti-inflammatory / cooling effect
Are all LED light device made the same? 
To put it simply no. It can depend on many factors. The key parameter is the precise wavelength or nanometre (nm) which determines the target for the light and also the depth of penetration into the skin. The second important parameter is the output power or photon intensity.
Each individual wavelength has a specific target chromophore within the skin (such as melanin, haemoglobin, water, cytochrome c oxidase, porphyrins etc.). Shorter wavelengths have more superficial targets and longer wavelengths penetrate to targets at deeper levels in the skin. If the wavelength does not match the target chromophore then there will be no absorption and no reaction and therefore no result. Furthermore if the photon intensity is too low and insufficient energy is applied to reach the target cells, again there will be no result as the minimum threshold has not been met. Not all LED Phototherapy systems are the same!
What Results Can I Expect? 
LED Light Therapy can help improve skin tone, hydration and overall radiance. It helps reduce redness and calm irritation and inflammation. However, most benefits occur naturally over time.
Results with LED light therapy are cumulative and a course of treatments taken in close succession is recommended for optimum results. Results can last for several months and regular maintenance treatments offer lasting improvement in the appearance and health of the skin.
LED Devices we recommend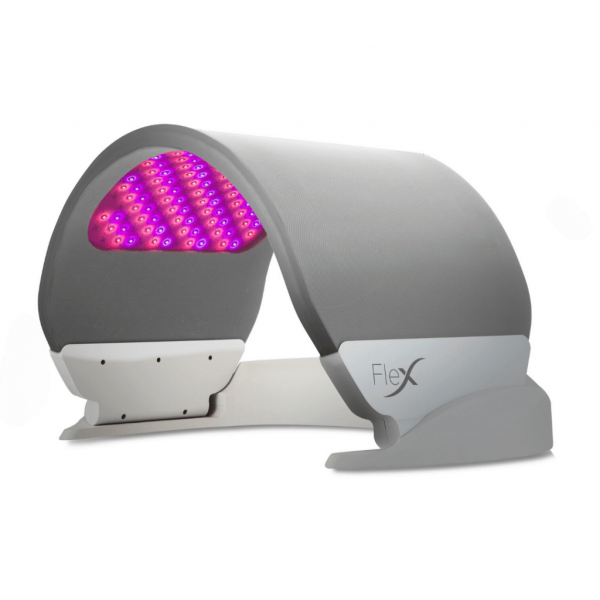 The Dermalux Flex is an entry level professional LED Phototherapy device featuring proprietary LED technology and the Dermalux guarantee of quality and efficacy.
It is truly a beautiful piece of equipment. The Flex delivers clinically proven Blue 415nm, Red 633nm and Near Infrared 830nm via single wavelength LED's to ensure precision and optimum optical power.
The flexible LED canopy is secured in a base unit for application to the face and can be removed and positioned flat for treatment of the body.
Dermalux Flex features:
• Clinically proven wavelengths
• Single wavelength LED's
• 7 Treatment Protocols
• Application for Face and Body
• 30 minute treatment time
• Light weight and portable
• Patented technology
Why we love this device
Dermalux are the industry leaders in LED light therapy. The knowledge and superior technology they have, shines through with this device. It is an investment, but one that we think is so worth it. From the wavelengths and optimum optical power to its ease of use and protocol settings; this device is a our top recommendation.
To purchase or for more information – follow this link : https://www.medifine.co.uk/product/dermalux-flex-md-professional-led/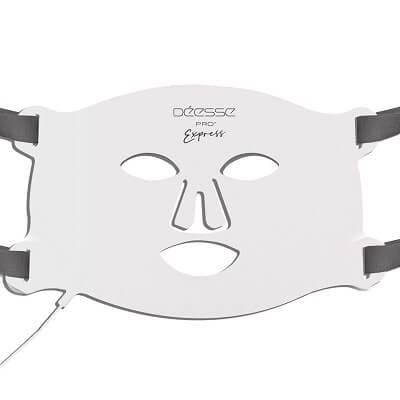 This mask can be used on the go which makes the device travel friendly, portable USB charged 10 minute express facial treatment experience, for the ultimate On The Go Glow!..
The Déesse Pro Express uses two clinically-proven wavelengths of light: 633nm, red light and 830nm, Near Infra Red light. These wavelengths stimulate collagen and elastin production within the cells and improve blood flow and tissue oxygenation, through a process called photobiomodulation.
With industry-leading technical knowledge and FDA approved technology, the Déesse Pro Express is the culmination of innovation and expertise, developed by a highly experienced team with over 20 years in the industry and clinical expertise within the LED market. The Déesse Pro Express provides cutting-edge technology to deliver a safe and pain free way to transform your skin with no downtime
Why We Love This Device 
This is easy to use and for the price, is a great addition to any skincare routine. The device targets the entire face in a single 10 minute treatment, making it ideal for a targeted and flexible express skincare treatment as well as providing medical grade eye protection during the treatment.
To purchase or for more information follow this link – https://www.medifine.co.uk/product/deesse-pro-express-led-mask/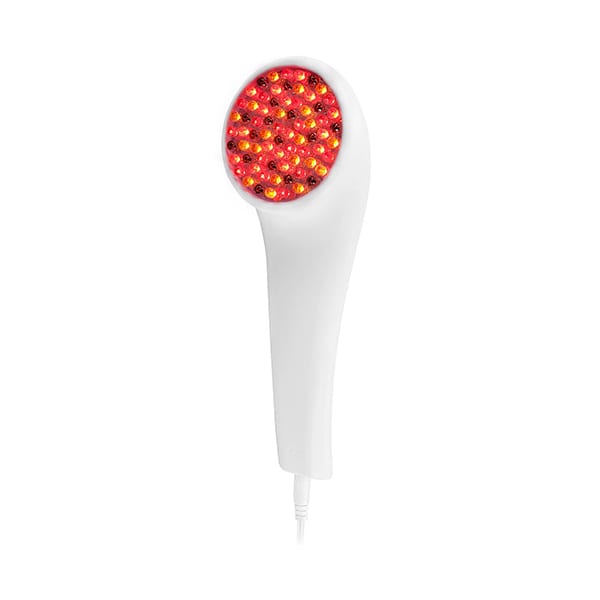 LightStim designs high-quality, easy-to-use, at-home devices that combine therapeutic light energy with patented technology to address your patient's skin from within.
72 LED's in 4 distinct wavelengths.
Same technology, wavelengths and benefits as the Professional Anti-Ageing Light
Ergonomically designed handle for the home user
FDA Cleared for the treatment of wrinkles on the entire face
Packaged in a point-of-purchase box ideal for display
Multiple colours available
The best way to use the device is by placing the light gently on the face for three minutes (using the timer) then moving on to the next area of the face for three minutes, and so on. By holding the light still, the skin absorbs as much light as possible. The light automatically turns off after 30 minutes of use.
Why we love this device 
Can use this device to target specific areas of concerns. It offers a concentrate amount of LED – 72 LED's in 4 distinct wavelengths.
For more information to purchase follow this link – https://www.medifine.co.uk/product/lightstim-for-wrinkles/