The importance of skin exfoliation
We wanted to look at 'skin exfoliation' and the importance this has as an essential step in skin health and one we all need to incorporate into our skin care regimes.
Exfoliation or shedding of the top layer of skin cells is a natural process and this skin cycle that is an ongoing course throughout our lifetime. In terms of skin health this process of removal (ideally every 28 days) occurs to make way for new cells to the surface from the deeper layers in the skin. Each skin cell undergoes stages of development and function;  we need a constant supply of new cells and shedding of 'dead' cells to maintain the skins protective barrier against infection.
Fact: Did you know that, during an average 24 hour period, we shed almost a million skin cells.
As we age and in certain skin conditions particularly oily skin the 'dead' skin cells do not break away regularly enough and cause problems such as blocked/enlarged pores, spots, inflammation, dry/flaky, dull and lifeless skin. It is beneficial for us all too regularly use exfoliating products in our skin care regime as it helps:
Unclogs pores
Prevents acne
Helps other skin care products penetrate deeper
Helps even skin tone
Boosts circulation and lymphatic drainage
Increases cellular turnover
Stimulates production of collagen
Promotes skin elasticity and minimises fine lines
How do we help the exfoliation process?
We use specific topical products for this purpose and methods used are physical where an abrasive ingredient is used to physically remove the top layer of skin cells or a chemical such as AHA acids (lactic, glycolic, mandelic acids) or fruit enzymes which dissolve the outermost surface skin cells. They are both proven and effective methods and are an individual choice to which method is used yet it is always best to be advised by a skin care specialist.
There is such a thing as over exfoliation and this is not advised as it can make the skin irritated and cause problems, it is best to follow specialist guidance. The goal of assisted exfoliation is to help restore the natural exfoliation process of the skin. When this is done correctly the results are smoother, brighter and more hydrated skin.
Vitamin A products are not within the remit of this topic today and will be covered in our next news letter.  This is an advanced and additional treatment to add into a skin care regime at an appropriate stage it has huge benefits such as supporting exfoliation, preventing acne, pigmentation and wrinkles.
We have put together recommendations of exfoliating products that we believe to be premium cosmeceutical skin care products in the medical industry.  They provide active and valuable ingredients that can influence skin cells to regulate and enhance their performance ultimately maintaining skin health.
 Exfoliating Cleansers:
SENTE EXFOLIATING CLEANSER
All skin types suitable for delicate skins
Blend of pyhtic acid, glycolic acid and galactoarabinan
Oil free and no added fragrances
Contains AHA (alpha- hydroxyl acids) to break away the dead surface skin cells
Use once or twice a week only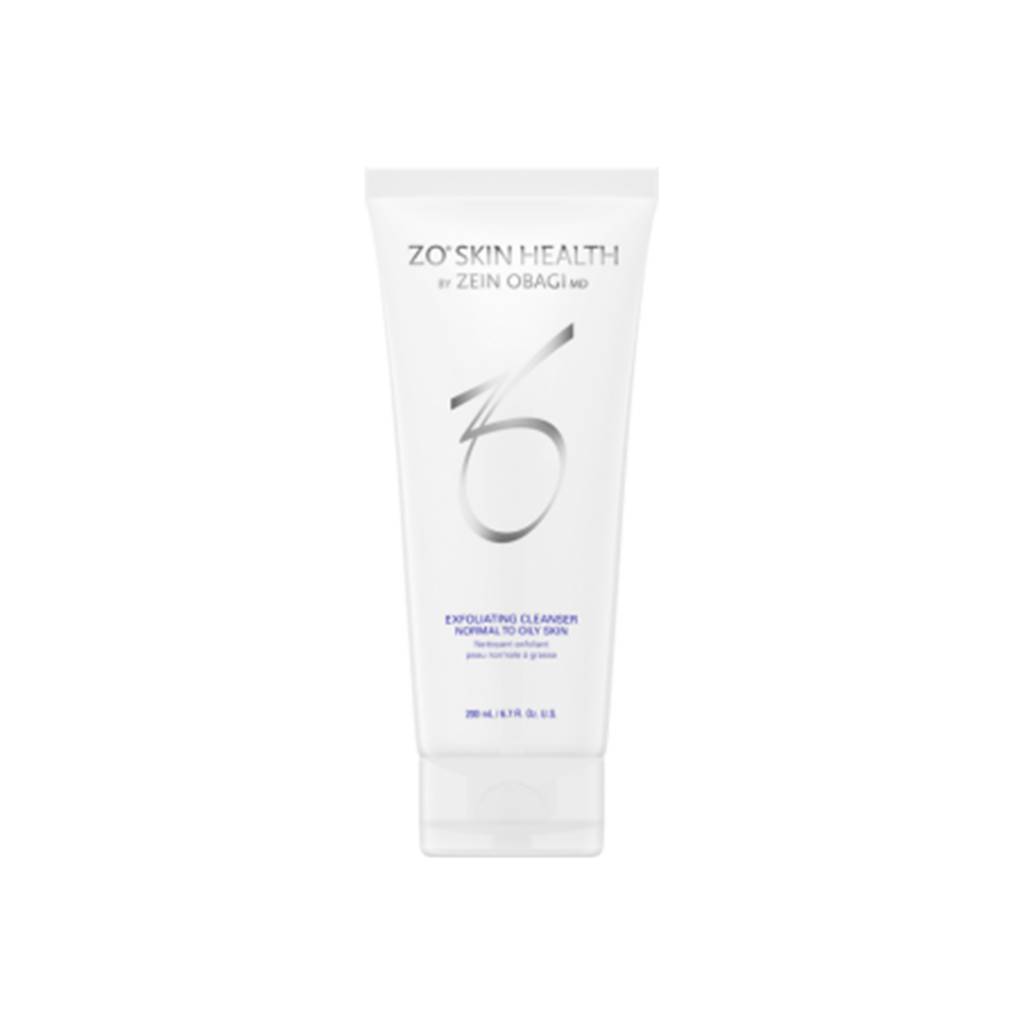 ZO (Zain Obagi) EXFOLIATING CLEANSER
Normal to oily skin
Micro-beads exfoliate to unclog pores and remove dead skin cells
Vitamin E provides antioxidant properties
Use morning and evening
OSMOSIS PURIFY ENZYME CLEANSER
Ageing/pigmented, oily, blemish prone skins
Gentle enzymatic exfoliation
Blend of fruit enzymes kiwi, papaya, pineapple used to loosen dead surface skin cells and lift away impurities
Free of sodium lauryl sulphate, parabens, colours and fragrances orviding non toxic ingredients
Can be used morning and evening
COSMEDIX PURITY CLEAN
Normal, combination, oily skin types
Exfoliates, decongests pores and cleanses skin of surface oil and impurities
Concentrated cleanser combines lactic acid with natural antibacterial agents
Peppermint oil is used for stimulation of circulation and aloe vera is soothing and calming
Free of synthetic fragrances, dyes and parabens protecting the skin natural balance
Can be used morning and evening
We particularly like these brands of cleansers and are chosen for their efficacy, ease of use, and the purity of the ingredients.
Exfoliating cleansers purpose is to provide a deep cleanse and break away the top layer of dead skin cells. This aids replenishment of new skin cells to surface and to keep skin functioning healthy by regulating cellular turnover approximately every 28 days helping to maintain clear, even skin tone, glowing, and smoother skin as we age.
Exfoliating scrubs or masks:
ZO EXFOLATING POLISH
All skin types
Round magnesium crystals provide a physical exfoliation removing dead skin cells
Excellent at home benefits of microdermabrasion
Contains Vitamins A, C and E providing powerful antioxidant protection
Enhances penetration of active ingredients
Use twice a week either morning or night
OSMOSIS POLISH CRANBERRY ENZYME MASK
Ageing, sensitive, irritated, pigmented, dry skins
Provides a gentle exfoliation cranberry extract and lactic acid loosen dead and damaged skin cells
A concentration of 1% CoEnzyme Q10 boosts skin glow and protects from free radical damage
Use once or twice a week
COSMEDIX PURITY DETOX SCRUB
Suitable for all skin types
It is a versatile powder that can be mixed with water or with your favourite cleanser
A gentle polish containing jojoba beads, poppy seeds and salicylic acid
Excellent for dissolving impurities, unclogging pores and removing excess oil
May be used twice a week
TRUTH TREATMENT SYSTEM AHA ENERGISING MINERAL EXFOLIATOR
All skin types
Energising and stimulating resurfacing exfoliator
Fruit acids, polyelectrolytes, vitamins, amino acids and minerals are used to support healthy skin, reducing inflammation, nourishing the skin and gently resurfacing
Can use over the face, neck and décolletage
Apply to freshly cleansed, dry skin 3 to 4 times a week
SKINBETTER SCIENCE ALPHARET EXFOLAITING PADS
 A combination of AlphaRet and a triple-acid complex (lactic, glycolic, salicylic) provides additional exfoliation and skin rejuvenation benefits.
Enhanced with patented retinoid, AlphaRet, exfoliates skin, leaving it smooth and bright. Individually packaged pads allow for single use in the evening.
Up to three times per week.
Suitable for oily, more resilient skin types
The cleaners (except SENTE) are for daily use and the scrubs, masks; AHA mineral exfoliator gives extra additional exfoliation to further support skin health. In terms of choosing products we are here to help and advise you on your skin concerns and conditions. We are confident we can customise a skin care regime around these exceptional exfoliating products for you.
Contact us:
Via email – info@medifine.co.uk
Via phone – 01132253938