Microcurrent is like a work out for your face. Take your skin to the gym and stimulate facial muscles for a natural lift.
Microcurrent is supported by more than 35 years of research. Microcurrent was first used in the medical and physiotherapy fields to activate the skin's natural chemicals responsible for health and vitality. Injury to the body disrupts normal electrical activity.
Mircocurrent produces electrical signals, like those naturally occurring when the body is repairing damaged tissues. By applying similar electrical currents, the healing process is enhanced. It uses low-voltage electricity to stimulate muscle, adenosine triphosphate (ATP) cell growth, and collagen development in the dermis on the face
Benefits:
Microcurrent is a gentle, sub-sensory electrical stimulation which triggers the body's natural skin enhancement chemicals at a cellular level.
Oxygenates the skin and increases cellular turnover
Restores firmness to the skin with increased collagen (fibroblasts)
Microcurrent increases ATP levels, increases free amino acids in injured cells and promotes ion transfer through cell membranes
What Results Can I Expect? 
Its important to note that the power in its effect is cumulative, meaning the benefits will show with frequent treatments.
Microcurrent treatment is aiming to stimulate collagen thickness, increase elastin fibers to produce a firmer and tighter feeling in the appearance on the skin surface.
Is It Safe? 
Microcurrent facials are generally safe for all skin types with no known side effects. However, there are specific health issues to take into consideration before starting any kind of microcurrent treatment.
Microcurrent at home is intended for facial stimulation and should not be used if the following indications are present:
Pregnancy
Seizures
Cancer or tumors
Cardiac pacemaker, or any electronic implanted defibrillator, simulators, or electronic devices as possible interference with these devices may occur
Do not use if prone to phlebitis, thrombosis, or on varicose veins
Use MINI only on normal skin. Do not use on skin that is swollen, infected, or has cancerous lesions.
How Often Should I Perform Microcurrent At Home? 
For best results, we recommend using it 3-4 times per week. Just like a workout for your body, your facial muscles like consistency. After 6 weeks, you can reduce to using it 2 to 3 times per week to maintain your results.
Which Device Is Best For Me? 
Clareblend Mini | Home Microcurrent – £295.00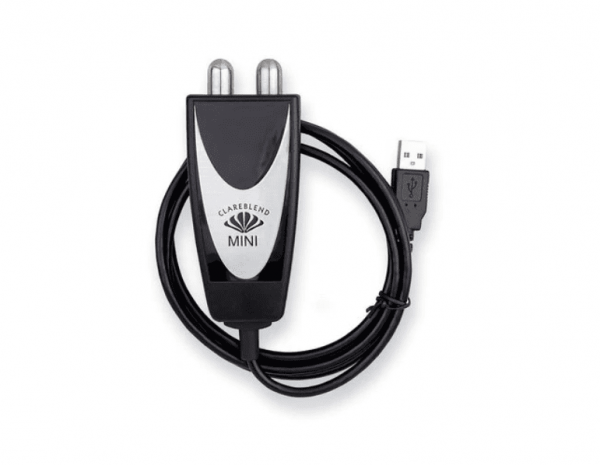 Clareblend MINI is a small, hand-held device based on professional microcurrent systems providing quality and effectiveness.
It uses advanced technology with more precise nod endings for more targeted placing of the current as well as low frequency with variable wavelengths that safely challenge the facial muscles, leading to more immediate and longer-lasting results.
Recommended for clients in between professional treatments or those wanting to carry out microcurrent at home. Results are cumulative. This machine produces 340 micro-amps and it has a variable frequency; for this reason you won't feel the current but the beeps will help you know how to use the machine correctly.
 No battery to replace
Plugs into USB ports
Comes with 6 months warranty.
To find out more about this device please follow the link here – https://www.medifine.co.uk/product/clareblend-mini-home-microcurrent/
Truth Treatment Systems | NRGY – £175.00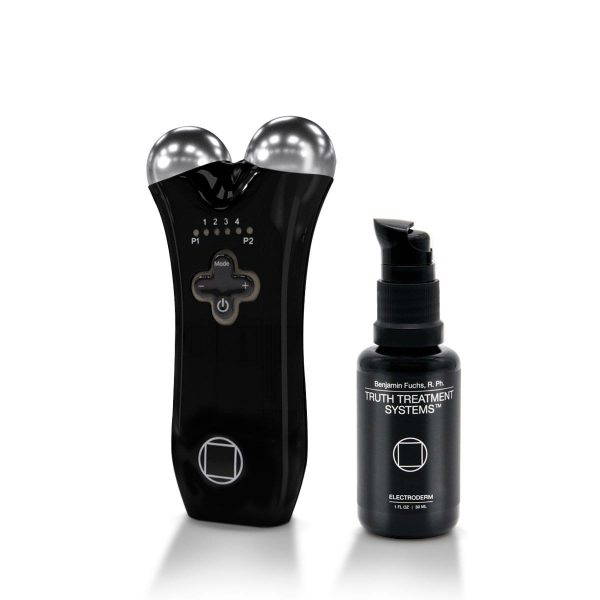 Truth Treatment Systems NRGY Current Device is a rechargeable microcurrent and EMS facial device. Intended for cosmetic use. This device delivers low-level electrical microcurrent pulses providing optimal facial stimulation. The dual hemispheres of the NRGY Current Device are ideal for total contact with faces of all shapes and sizes. The NRGY Current Device provides adjustable output of microcurrent through five speeds and two pulsation modes, pulsing at 325 microamps and 400 microamps (EMS).
NRGY Current Device is a dual mode microcurrent and EMS device that is designed to address several skin concerns. Microcurrent uses pulsating electrical currents of low voltage to boost ATP (adenosine triphosphate) production in the skin. ATP is a major energy molecule for all intracellular processes. It assists with collagen production, elastin production, reduction of fine lines and wrinkles and cellular regeneration.
Mode 1:
• Stimulates the recovery of damaged tissue
• Temporarily improves circulation
• Promotes lymphatic drainage
• Increases product penetration
• Reduces fine lines and wrinkles
• Visibly firms and tightens skin
Mode 2:
• Pulsating microcurrent for spot treating and re-education of the facial muscles
• Improves muscle tone and contour in the face/neck
• Aids in plumping deeper lines and wrinkles with continuous use
To find out more about this device please follow the link here – https://www.medifine.co.uk/product/truth-treatment-systems-nrgy-intro-bundle/