Wrinkles – causes and treatments 
Why Do I Have Wrinkles? 
Firstly, it is important to realise that wrinkles are a natural part of the ageing process. Wrinkles are the lines and creases that form in your skin and can be fine, surface lines or deeper furrows.
Understanding the science behind wrinkles and their formation is an important factor prior to looking at treatments.
The Science 
Starting with the basics; our skin is made up of 3 layers – Epidermis; Dermis and subcutaneous tissue.
Epidermis – the outer layer of the skin mostly made up of flat, scale-like cells called squamous cells. Under the squamous cells are round cells called basal cells. The deepest part of the epidermis also contains melanocytes.
Dermis – The dermis is composed of nerves, fats, blood vessels, elastin, and collagen fibers. Collagen – which occupies about 80% of the dermis – is a protein that accounts for the primary component of body's connective tissue. Collagen provides the skin's strength, whereas elastin (as its name implies) gives your skin its elastic quality and enables it to stretch back and forth.
Subcutaneous Tissue – It's made up of fat and connective tissues that house larger blood vessels and nerves.
The structural changes to these 3 layers are what cause skin ageing. And this is influenced by internal and external processes, which contribute to a loss of skin integrity. Just some of the changes that can happen over time to the skin's structure:
The epidermis decreases in thickness. Thickness decreases about 6.4% per decade on average, with an associated reduction in epidermal cell numbers.
Keratinocytes, as skin ages, change shape, becoming shorter and fatter, while corneocytes become bigger as a result of decreased epidermal turnover.
Active melanocytes decrease at a rate of 8% to 20% per decade, resulting in uneven pigmentation in more elderly skin.
Although the number of sweat glands does not change, sebum production decreases as much as 60%. Resulting in drier skin.
Skin's barrier integrity is effected with both lipid and Trans Epidermal Water Loss reducing.
The dermo-epidermal junction flattens which increases vulnerability of the skin
Dermis thickness decreases; as does the GAGS, collagen, the amount of Hyaluronic Acid produced by fibroblasts and elastin.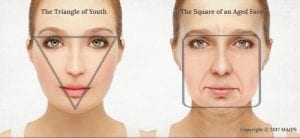 What causes

Wrinkles?

 
Age

  – As mentioned ageing in a natural process. Whilst it can be slowed down; it can not be completely stop it in its tracks
Repeated Facial Movements – Facial movements cause wrinkling in both the dynamic and the static states

Smoking

– Smoking can speed up the normal ageing process in your skin which contributes to wrinkles
Pollution – Free radicals (or harmful, electron-hungry molecules) cause damage when they pull electrons from other molecules in our body. This action alters chemical structures and biological functioning, thereby accelerating the aging process, as seen on our skin in the form of wrinkles.

Sun Exposure

– Ultraviolet radiation, which speeds the natural aging process, is the primary cause of early wrinkling. Exposure to UV light breaks down your skin's connective tissue — collagen and elastin fibers, which lie in the deeper layer of skin (dermis)
Internal Diet – Internal diet can have a big impact on the skin. Healthy, balanced diet can provide vitamins and nutrients to help the skin function correctly. Diets high in sugar, alcohol and salts can have an ageing impact on the skin.
Hereditary – Genetics play a significant role in how we age and can contribute for up to 60% on determining how our skin ages.
Treatments 
When our team our recommending treatments and/or skincare to help with any ageing concern; it is very much dependant on the severity of ageing and assessing the clients needs. Prevention is always the first step and our top tip preventative tips are:
A good antioxidant in your AM routine such as Vitamin C
Retinol 1-2 times a week(usage varies depending on a clients skin and experience)
A cleanser suited to your skin type
SPF daily
Preventative treatments such as LED Light therapy, resurfacing facial treatment or mesotherapy vitamin injections.
Internal supplementation *important to know the correct supplementation for you
Treatments We Love 
Anti-wrinkle Treatment Injections
This treatment works beneath the surface and temporarily reduces the underlying muscle activity that causes moderate to severe frown lines, crow's feet and forehead lines in adults – to help them look visibly smoother. The treatment results can be expected to last around 3 months.
Profhilo
This is an injectable hyaluronic acid (HA) based product for treating skin laxity. With one of the highest concentrations of HA on the market (64mg / 2ml) it is not only boosting and hydrating the skin, but also remodels the ageing and sagging tissue. Profhilo delivers great results as a treatment on its own or in combination with other aesthetics treatments currently on offer.
PRX-T33
This Innovative peel treatment combines the follow ingredients:
Trichloroacetic acid 33%. It stimulates the growth of fibroblasts in the skin, at the same time it has an anti-inflammatory effect, effectively cleans pores from accumulated cutaneous fat, debris of cosmetics and micro particles of dirt, destroys pathogenic bacteria that cause acne formation, and increases the elasticity of the dermis.
Hydrogen peroxide 3%. It has a strong antiseptic effect on the treated area of the skin. Upon contact with the epidermis, hydrogen peroxide promotes the release of a huge amount of oxygen, which mechanically cleans the skin surface from all types of contaminants. In addition, hydrogen peroxide fills skin cells with pure oxygen which increases the sensitivity of receptors.
Kojic acid. The main purpose of this component is to brighten the treated area of the face. The chemical composition of this acid suppresses the production of melanin. Formerly, it was used to eliminate pigmentation, freckles, to remove traces of post-acne, chickenpox, small scars and cicatrices. This way a long and painful procedure turned into a quick and painless one.
MicroNeedling
This treatment uses a dermaroller device with small needles (0.5-3.0mm in depth) which is rolled over your face and neck area to create controlled punctures, which force your skin into repair mode. This triggers the skin's ability to produce collagen and elastin.
Skincare We Love 
Retinol
Retinoids minimize the appearance of wrinkles, slow the breakdown of collagen and thicken the deeper layer of skin where wrinkles are formed.  With Retinol products we recommend starting slowly and using 1-2 times a week to begin with. This will help minimise any typical retinol reactions such as redness, dryness and flaking.
Product recommendations: 
A unique combination of an alpha hydroxy acid (AHA) and a retinoid that provides visible skin rejuvenation with little-to-no irritation. Improving the appearance of lines, wrinkles, uneven tone and texture.
This combines the benefits of patented HSA (Heparan Sulfate Analog) technology with sustained release retinoids and other key ingredients for the appearance of firmer and smoother skin with minimal irritation
This contains the highest concentration of specialist Vitamin A derivative, Retinaldehyde. This stimulates collagen production and brightens uneven tone, while a restorative blend of Hyaluronic Acid, Niacinamide and Peptides work to address the visible signs of ageing.
Antioxidant Protection
Antioxidants help protect against environmental damage that slowly changes skin, causing it to look and feel older. They can also help reignite skin's vitality, vibrancy, and overall healthy look and feel. Research shows it's better to use a diverse range of effective antioxidants for your skin, so the products you use should contain a variety of these—the more the better. And these can range from Vitamin C, green tea, grape extract, glutathione, or resveratrol just to name a few.
Product recommendations: 
This is an innovative serum that contains a huge 19 different antioxidants to protect your skin from wrinkle-causing free radicals. A daily antioxidant protection and improvement of the appearance of uneven tone and redness.
Delivers an extremely high dose of stable, lipophilic Vitamin C, proven to boost the production of natural moisture factors at the cellular level and help reverse the signs of aging.
This serum works on improving brightness, texture and softness of the skin as well as improving uneven skin tones. Contains 15% pure L-ascorbic acid (Vitamin C) and 1% alpha tocopherol (Vitamin E), and the addition of ferulic acid doubles the benefits of using the ingredients separately.
Sun Protection 
Sun damage is a huge ageing factor. that cause wrinkles, loss of firmness, dullness and uneven pigment. It does this by damaging:
SKIN CELL DNA leading to mutations
LANGERHANS CELLS compromising the skin's ability to protect itself
MELANOCYTES causing pigmentation
COLLAGEN leading to lines, wrinkles and laxity
Product Recommendations:
This non-nano, coated, zinc-oxide based sunscreen offers sheer, long-lasting coverage. iT Protects the skin from UVA/UVB as well as maintaining lipid balance and hydration.
This is a photoprotector formulated with 100% physical filters and very broad coverage against UVB, UVA, IR-A and visible. It is for normal/ combination skins and those especially indicated for a sensitive and intolerant skin. It has an almost invisible finish to suit everyone.
Human Derived Stem Factors
Adult stem cell technology works by providing ingredients that mimic and enhance your body's own natural stem cell function. The molecules are packaged in exosomes, which are naturally produced nanoparticles that protect the molecules. The exosomes, which provide carrier and penetration qualities superior to that of liposomes, are then released from the cells so they pass through the skin barriers to directly target the damaged tissue. This promotes healthy cells and in turn more youthful skin.
The companies most advanced product, is a breakthrough serum that improves anti-aging results, speeds the healing process and reduces inflammation. Recovery is abundant in our patented S²RM® technology and contains multiple adult stem cell released molecules, including potent antioxidants, peptides, and many other anti-aging molecules. This powerful serum acts as a power boost to naturally return the skin to a healthy and radiant state. It is safe for daily use and corrects even the most damaged skin.
This serum features advanced exosome technology to maximise the delivery of over 600 growth factors and skin proteins derived from adult stem cells that are easily recognised by the skin to improve all aspects of skin damage and ageing.
Hydration
A hydrated complexion looks more plump, healthy and youthful looking. Having an adequately hydrated face will help to improve skin elasticity which will reduce the appearance of wrinkles.
Product recommendations: 
Rich in essential fatty acids, cell membrane strengthening phytosterols, aging, damage and UV protecting carotenoids and antioxidants, needed and lacking vitamins, anti-wrinkle strongest, comprehensive neuropeptides and liquid crystal, biomimetic growth factors/peptides.
This is the first pressed serum formulated with a blend of three proprietary glycosaminoglycan analogs including DSA, CSA, and patented HSA to help tighten sagging skin. This multipurpose serum helps restore firmness, elasticity, and volume while reinforcing the skin's youthful contours, decreasing the appearance of wrinkles, and addressing mature or photo-aged skin concerns.
We hope you enjoyed this blog. If you have any questions or would like any further information please do get in touch with us.