Osmosis RevitaPen Infusion Facial, Leeds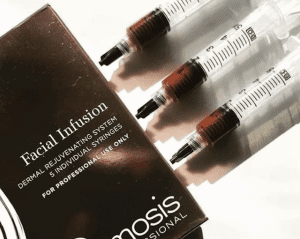 Medifine is proud to announce we now offer the Osmosis RevitaPen Facial Infusion treatment at our clinic in Leeds.
For those that have heard or used Osmosis will know this is a unique brand of skincare and supplements and their treatment offering is no different. Osmosis believes in healing and working with your skin, not harming or inflaming it. So, this RevitaPen is the no-needle alternative to micro-needling. Using Nano-Technology to enhance product absorption into the skin without wounding the skin or triggering inflammation.
The RevitaPen is the no needle approach to skin rejuvenation. It is the "no-needle alternative to micro-needling". This pen has been designed to offer results without the downtime, side effects and skin recovery associated with micro-needling.
The RevitaPen is a treatment tool that uses sphere-shaped tips that gently create micro-channels in the skin allowing Osmosis active ingredients to be driven deep for optimal skin restoration. The benefits of the RevitaPen include gentle exfoliation, increased hydration, softening lines and wrinkles, improved skin texture and increased circulation.
We use the RevitaPen alongside the facial infusion skincare which is a Retinaldehyde (Vitamin A) based treatment. We tailor the treatment with certain actives, powder blends and serums according to your skin type and needs.
BENEFITS
Provides the ultimate dermal remodeling through increasing circulation, boosting immunity, and skin rejuvenation
Creates rapid cell turnover
Penetrates several high-dose active ingredients and nutrients deep into the dermis through liposomal delivery
Plump, luminous complexion
Improved firmness and elasticity
Increased hydration and softness
Minimizes pore size and blemishes
Evens skin complexion and reduces age spots and hyperpigmentation
Osmosis Facial Infusion generates a 30-day collagen production increase and is a wonderful option used to boost + speed up the results of Osmosis protocols. Avoid damaging the epidermis by penetrating several high-dose active ingredients into the dermis through liposomal delivery, enhancing results for acne, aging, rosacea, and hyperpigmentation.
Let's hear what the founder has to say:
How Much is the Treatment?
The cost of the treatment is £140.00
How to book an appointment?
Call our clinic on 01132253938 or email info@medifine.co.uk
Are there contraindications to the treatment? 
Like with any of our treatments, our team will carry out a consultation prior to treatment and check suitability. But just to give you an idea, we look for the following:
May perform treatment but avoid areas listed below:
Active blemishes
Skin tags
Dermatosis Papulose Nigra
Scars less than 6 months old
Severe Solar Keratosis
Psoriasis
Eczema
Do NOT perform treatment on individuals with:
Scleroderma
Undiagnosed lesions, rashes, or skin infections
Recent herpes outbreaks
Severe cases of rosacea
Auto-immune system disorders
Undergoing cancer treatment