Oncology approved skincare
Going through cancer can be one of lives most challenging and difficult experience both physically, emotionally and financially.  We have seen this first hand in our family as I am sure many reading this will have had either personal experience or had a family, friend or work colleague who has.
Cancer Treatment and the Effects on Skin
Our skin is our first line of defence against sunlight, chemicals, microbes and the environment.  It helps regulate body temperature, prevents water loss, and permits the sensations of touch, heat, and cold.  It has a very important role.
Cancer treatments, such as Radiation or Chemotherapy, can really damage our skin which affects all of its functions.  When the skin doesn't function properly, skin reactions may develop that vary in intensity for each individual and include:
Radiation rash
Dry or extremely dry skin that may appear in patches or all over the body
Photosensitivity
Itchy skin
Hyperpigmentation
Colour changes in skin tone
Until recently, patients' skin health suffered with little or no option for healing skin reactions while undergoing treatments. That is changing with many more skincare brands providing oncology approved skincare; skincare that helps to safely relieve the symptoms and aims to heal the skin.
The best time to begin this specialized skin care program is prior to any treatments. As this will help get the skin barrier as strong and healthy as it can be prior to treatment, so you are already one step ahead.
We at Medifine Aesthetics recognise the importance of offering Oncology skincare and have carried out training with brands to deepen our knowledge and understanding around this area. We work with NeoGenesis and iS Clinical. We have put a brief guide together below but we always offer face-to-face or over the phone advice to help find recommendations personal to you and your situation.
NeoGenesis 
The NeoGenesis line of skin care products are Oncology approved for use during and after cancer treatments. By giving the skin the nutrients it needs to naturally repair and heal through our S²RM® patented technology, the patient receives a greater level of comfort and healing from extreme dryness, persistent itch, rash, hyperpigmentation and photosensitivity.
The NeoGenesis line of Oncology safe skin care products include:
Cleanser – a safe, non-toxic gel based cleanser for all skin types
Recovery – an advanced product for the most complete healing of traumatized skin
Skin Serum –  our daily serum to maintain and nurture the skin
Eye Serum – to protect and nourish the delicate eye area
Moisturizing Mist – all day hydration and comfort for dry, itchy skin
Intensive Moisturizer – for deep hydration and barrier protection.
Light Moisturizer – hydration for normal to oily skin types and protects the barrier
Barrier Renewal Cream – lightweight, reparative cream to renew and repair the skin
Body Cream – deep hydration and repair for the skin on the body
Hair Thickening Serum-  promotes regrowth of the hair
NeoLash -protects and regenerates the eyelashes
NeoBrow – promotes regrowth of the eyebrows after cancer treatments
iS Clinical 
The iS CANCER CARE™ PROGRAM is designed to assist with both the physical and emotional challenges of patients dealing with cancer. The programme provides skincare solutions and education programs for patients at every stage of their cancer journey.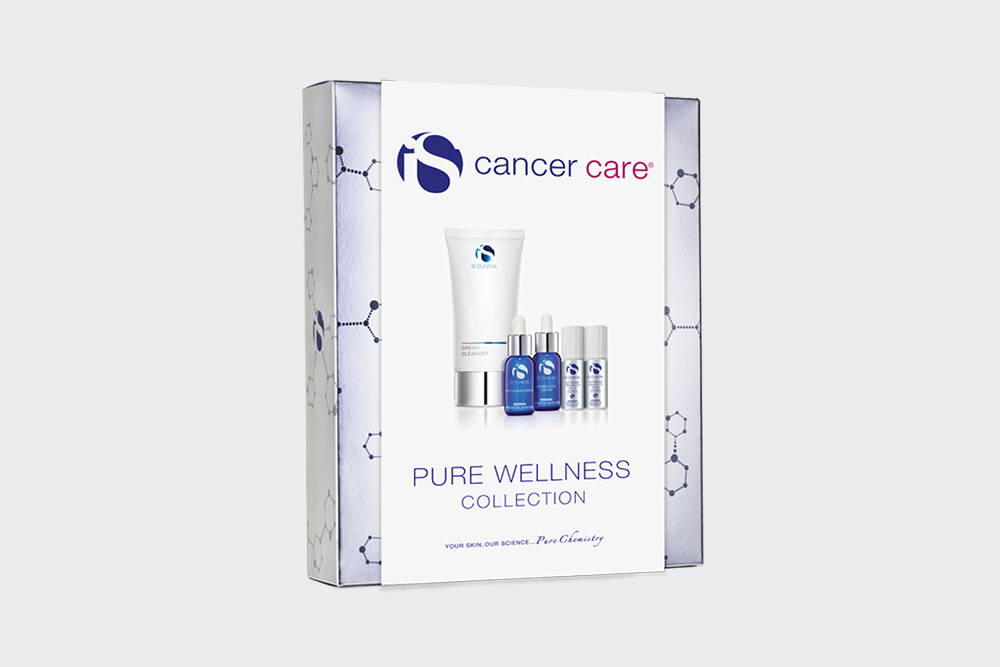 Clinically Proven Skincare
The PURE WELLNESS COLLECTION contains:
– Cream Cleanser
– Poly Vitamin Serum
– Hydra-cool Serum
– Extreme Protect SPF 30
These products have been used successfully by active cancer patients during treatment for over a decade to improve the overall look and feel of the skin.
For more information please contact the clinic and one of the team will be happy to help you.