MBK Eye Rejuvenator UK 
Now available at Medifine Aesthetics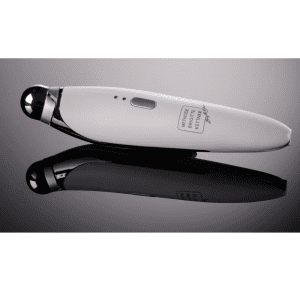 The Eye Rejuvenator uses scientifically proven microcurrent technology to increase oxygen and blood circulation and to improve the fibroblast activity which speeds up natural collagen production to the delicate eye area while also increasing the product permeability of MBK eye creams and serums to further enhance their effectiveness. This treatment is as much preventative for anti-aging as it is corrective for age reversal.
Further benefits:
Reduction of dark circles and under-eye bags
Reduces puffiness
Increases product permeability, such as eye creams and eye serums, to further enhance their effectiveness
Soothes tired eyes
The MBK Eye Rejuvenator is a safe, relaxing, quick & easy micro-treatment for the eye area. It can also be used around the jowls, lips and lip lines.
Driven by her passion for a homeopathic approach to healthy skin, Ms Brigitte Kettner a well known German biologist and skincare specialist developed Methode Brigitte Kettner. MBK has been successfully sold throughout Europe for over three decades and continues to gain worldwide success by offering a full range of targeted and effective skincare products along with support hand-held devices that are designed and developed in Germany.
Contents:
Eye Rejuvenator Device
User Manual
AC Adapter