NEW Product Launch
Dr.esthe
Dr.esthe is a professional medical grade skincare brand created by 100 Korean dermatologists who actively engage in all processes from product design to research and development. The focus since 2003 has been on safe and effective ingredients that can be used on all skin types as supplements to optimise skin health. The philosophy and developments of this unique skincare brand are advanced by the continuing research, clinical expertise of dermatologists who share a passion to be the leading dermatological cosmetics.
Dr.esthe 3S System: The APPROACH
1. Speciality (High Tech Delivery & Hypoallergenic System)
2. Safety (Dermatologist Tested)
3. Solution (Skin Type Prescription)
Important and reassuring NO CHEMICALS
No artificial fragrances
No artificial colorants
No parabens
No mineral oil
No benzopheane
No ethanol
No triethanolamine
Dermatologist tested and safe for all skin types even the most sensitive skins.
Our introduction to this brand is starting with offering the solution ampoules, there are four in total which come in sizes of 50mls & 150mls, and you can use more than one solution type depending on your skin conditions.
1. Dr.esthe Hyal- Moisture Solution ampoule
2. Dr.esthe M.G.F Renewal Solution ampoule
3. Dr.esthe Vita- C Radiance Solution ampoule
4. Dr.esthe Azulene Relief Solution ampoule
Unique to all these products is the formulation with 5,000ppm Goats Milk. A natural healing and moisturizing ingredient with probiotics to protect the skin's natural micro biome. Goat Milk is a similar protein found in human breast milk, hypoallergenic, strengthens with selenium, whitening effect with B-Casin & is quickly absorbed.
Dr.esthe Hyal-Moisture Solution Ampoule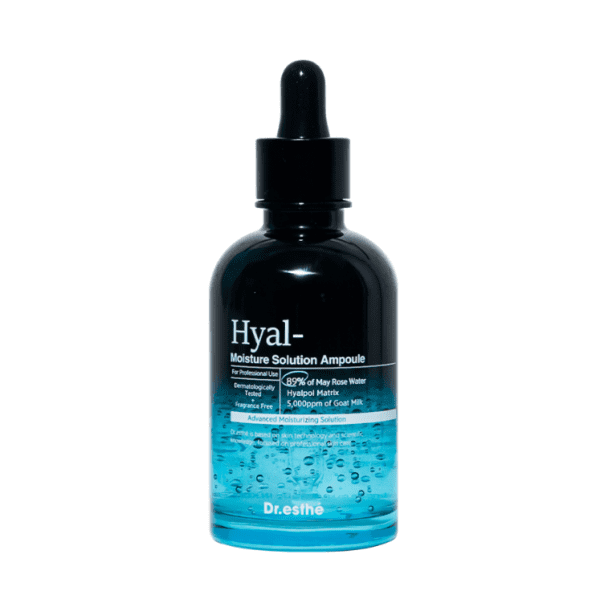 This serum is an advanced moisturising solution containing 89% of May Rose Water (rich in vitamins A.B.C &D) , 6 types of hyaluronic acid working together to increase water retention which is deeply hydrating and ideal for all skin types particularly dry, mature skins and aids in providing long lasting moisture and glow to the skin.
Ideal: All Skin Types, most hydrating serum
Dr.esthe M.G.F Renewal Solution Ampoule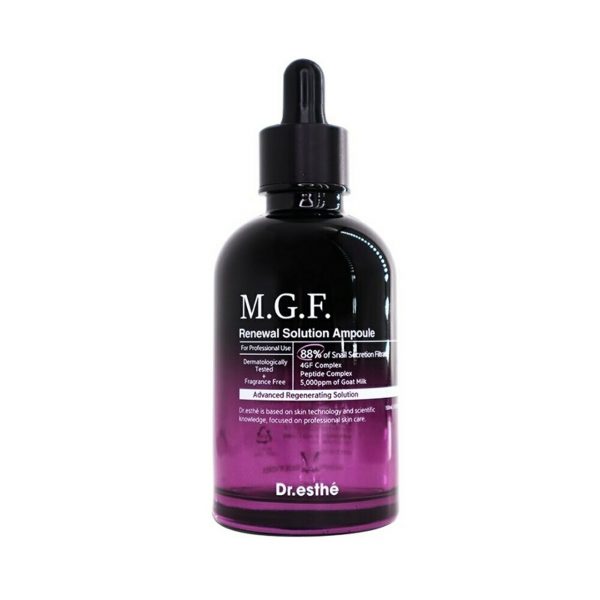 This serum is an advanced regenerating solution using 88% of snail secretion filtrate, 9 peptides and 4 growth factors. Protects irritated skin and enhances the skins natural strength through intensive regenerating care.
Benefits of 88% Snail Secretion Filtrate:
Contains naturally occurring mucin, allantoin, glycolic acid, retinol, collagen, and elastin.
Improves and repairs skin barrier.
Locks in vital moisture and deeply hydrates the skin.
Reduces skin hypersensitivity
Helps to improve skin elasticity and the appearance of wrinkles.
Ideal: All Skin Types, anti-ageing minimising fine lines & wrinkles, repairs skin barrier, non-irritating retinol
Dr.esthe Vita-C Radiance Solution Ampoule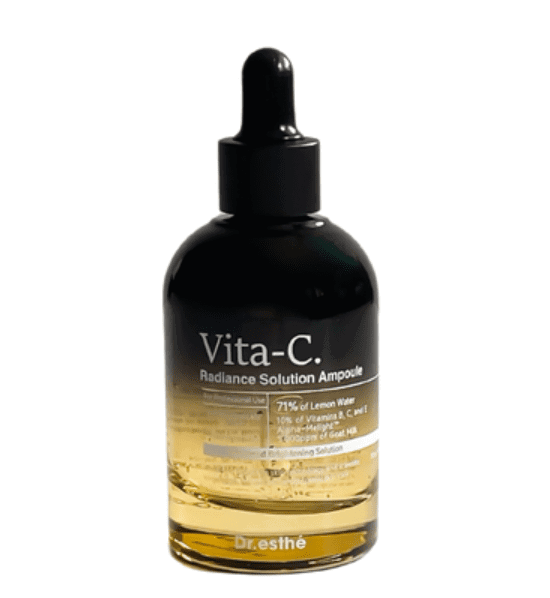 This serum is an advanced brightening solution 71% lemon water for improving skin tones, 14% Vitamin complex C,B and E for brightening effect, 5% niacinamide and Alpha-Melight to help reduce melanin production. Revitalises dull and uneven skin tone with fast-absorbing formula for brighter complexion. Safe for sensitive skin
All skin types will appreciate this lightweight formula to help correct dark spots, dull skin, acne scars, pigmentation, and sunspots by preventing melanin formation.
Dr.esthe Azulene Relief Solution Ampoule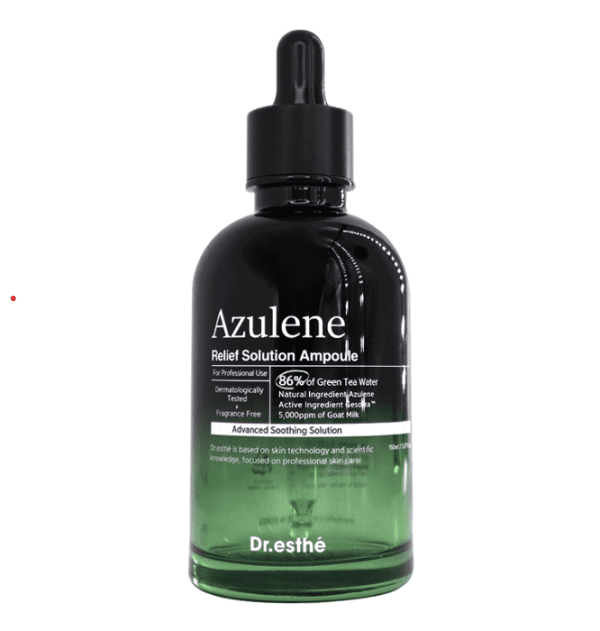 This serum is an advanced soothing lotion containing 73% Green Tea Water as a base to provide rapid soothing and calming benefits to relieve irritated skins. Green Tea Water has powerful antibacterial and anti-inflammatory qualities, while also naturally full of Vitamins A, B2, C, and Tocopherols. The natural ingredient Azulene is an intensively calming extract derived from Chamomile that calms, soothes, and reduces redness. Gesolza: patented blend of herbs that has been clinically proved to improve acne, rosacea, and the overproduction of sebum. Rich in Vitamins A, B, and C.
Ideal: All skin types, especially acne, redness & sensitivity
We are recommending any of these 4 Dr.esthe serums to use with the Caviplla & Sculplla products as they contain no silicones or oils that will interfere with Caviplla's unique oxygen carrier that drives Poly-L-Lactic Acid (collagen stimulator) into the skin.
All these serums work well with the Sculplla range, Dr esthe is a sister company and the two brands work synergistically to enhance efficacy of penetration of products, guaranteeing superior results